Our aim is to provide clients with specialized technical services in the fields of consultancy, technical assistance, monitoring, testing and diagnostics in order to maximize the safety, reliability and efficiency of their installations, equipment and processes.
WHAT CAN
WE DO

?

A simple way to explain what we do is to consider elements in three boxes:
Consider ASSETS on which the client wants to act: Equipment, facilities and processes.
Consider OBJECTIVES to improve with our action: Safety, reliability, efficiency.
Consider ACTIVITIES to be carried out to achieve these objectives: Testing and trials, inspection and supervision, calculation and re-engineering, auditing.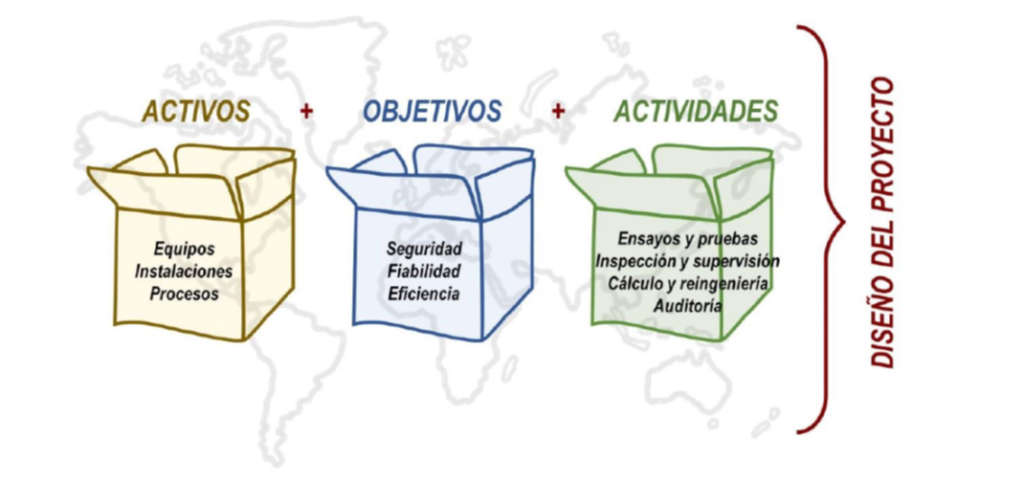 .. and consider any place in the world for its implementation…
This results in the following services:
Inspection & Supervision
Inspections:

CWI (Certified Welding Inspector) of AWS (American Welding Society).
CIP (Coating Inspector Certification Program) of NACE (National Association of Corrosion Engineers).
FROSIO surface treatment inspectors.

Execution of predictive maintenance plans.
Inspection services during industrial plant outages.
IFI (reliability and integrity engineer) services.
Inspection, supply, installation and maintenance of cathodic protection systems.

Engineering and Studies
Fitness for service.
Extension of the useful life of installations.
Re-engineering of industrial installations.
Failure and Root Cause Analysis (RCA).
Equipment repair procedures.
Welding procedures.
Design of cathodic protection systems.
Legalization of installations.
Technical-legal studies.

Technical Assistance and Quality
Quality assurance and quality control.
Technical assistance to site management.

Trials and Tests
Visual inspection.
Magnetic testing.
Penetrant testing.
Conventional ultrasounds.
Non-conventional ultrasounds (PAUT and TOFD).
Hardness measurement.
Positive material identification (PMI).
Metallographic tests.
Coating tests (adhesion, roughness, thickness…).

Energy Efficiency
Energy audits.
Energy consultancy.
Measurement campaigns.

Audits
Supplier approval audits.
Maintenance quality audits.
Status audits for sales notebooks.
End-of-warranty audits.
Energy audits.

Training
Modular courses.
On-site and off-site training.
Open or "in company" training.